MAY 15-21, 2016 IS THE 42ND ANNUAL NATIONAL EMS WEEK
In 1973, President Gerald Ford authorized EMS Week to celebrate EMS practitioners and the important work they do in our nation's communities. Back then, EMS was a new profession, and EMS practitioners had only just started to be recognized as a critical component of emergency medicine and the public health safety net.
A lot has changed since then. EMS is now firmly established as an essential public function and a vital component of the medical care continuum. On any given day, EMS practitioners help save lives by responding to medical emergencies, including heart attack, difficulty breathing, a fall or accident, drowning, cardiac arrest, stroke, drug overdose or acute illness. EMS may provide both basic and advanced medical care at the scene of an emergency and en route to a hospital. EMS practitioners care for their patients' medical needs and show caring and compassion to their patients in their most difficult moments.
With the development of mobile integrated healthcare and community paramedicine, EMS is also increasingly a valued participant in achieving the nation's overall healthcare goals of improved patient health and lowered costs.
NAEMT-ACEP EMS Week Partnership

This year, NAEMT continues its partnership with the American College of Emergency Physicians (ACEP) on the EMS Strong campaign. Together, NAEMT and ACEP are working to ensure that the important contributions of EMS practitioners in safeguarding the health, safety and wellbeing of their communities are fully celebrated and recognized.
EMS Week brings together local communities and medical personnel to honor the dedication of those who provide the day-to-day lifesaving services of medicine's "front line."
EMS Week is also an opportunity to publicize those contributions. Given the challenges facing our nation's healthcare system and the rapid pace of change, making sure the public and other stakeholders understand what EMS has to offer has never been more important.
Whether celebrated with a company cookout or a catered lunch; an open house, an awards ceremony or even quiet reflection about what it means to be an EMS practitioner, EMS Week is the perfect time to recognize EMS and all that its practitioners do for our nation.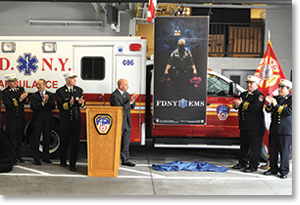 We have been very busy here at Quad Ambulance over the past few months. As we posted earlier, we have been working on some changes to ensure our company continues to grow and our communities continue to receive the best care possible.
Over the last few months all our employees and board members have taken an oath of office, and solemnly swore to support, uphold and defend the resolutions and policies adapted by Quad Ambulance district, the state of Ohio and the United States Constitution. We have also participated in numerous trainings and continuing education courses as well as working with some residents and neighboring departments on specific emergency action plans.
We received our new heart monitors and we were able to train on them and place them in service last night. We are now able to provide the hospitals with the most accurate and update information. We would like to thank our board members and all our residents for your continued support of Quad Ambulance District.
The Quad Ambulance District welcomes Steven D. VanMeter as the new Chief of the district. Mr. VanMeter has been working with retiring Chief Jimmie Herstine for the past several months. The transition officially took place January 1st, 2015.
Chief Herstine has been with Quad Ambulance since its formation in 1984. He served as Chief of the District for the past 24+ years. In that time Chief Herstine continuously met the needs of the community advancing Quad Ambulance from a volunteer, to a paid-per-call, to part-time, to what is now a fully staffed emergency service.
Mr. VanMeter was initially hired by Quad Ambulance as a part-time paramedic January 1st, 2006, then advanced to a full-time position in April of 2007. During those nine years he continuously invested himself in the district.
Mr. VanMeter began his career in the fire and emergency services nearly 20 years ago with the Carrollton Village Fire Department as a volunteer. In 1999 he was hired by the Stow Fire Department as a career firefighter/paramedic where he has advanced through the ranks and is now a Captain.
This extensive combined volunteer and full-time experience is exactly what Quad Ambulance needed to embrace the challenges facing the district in the future. Mr. VanMeter came highly recommended by the Stow Fire Department and other area chiefs.
In anticipation of this promotion Mr. VanMeter and his wife of 16 years, Kerri, relocated their family of three children to the local area this past August. So join the Quad Ambulance District in not only welcoming Steven VanMeter as the new chief of the district, but to the local community as well.